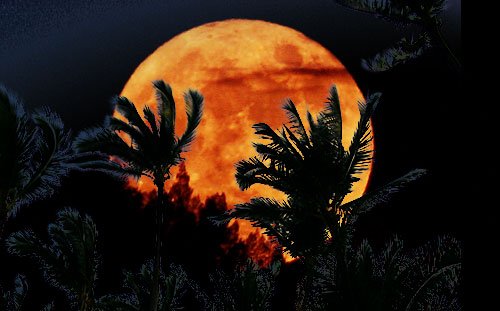 According to some of NASA's calculations, the full moon that will be visible tonight from the sky will be unlike any other full moon this year. Some call it the "super moon,: and it is set to dazzle the Hawaii sky tonight.
The moon will appear 14 percent larger than other full moons of 2012. "The swollen orb rising in the East at sunset will seem super indeed. It will be 30 percent brighter, yes, but that's 30 percent brighter than the moon is when it is at "apogee" — the farthest point in its elliptical orbit around Earth.
With this amazing phenomenon set to hit us this evening, where are the best places to view the super moon (full moon) in all its glory? Anywhere where you can get an unobstructed view should be fine. As you know, we live in a place that offers plenty of unobstructed views; the beach.
SUMBIT YOUR SUPER MOON PHOTOS TO US. beyondhonolulu@gmail.com
You can head to the nearest beach to see the super moon, or you could even do a little night hiking and get to a higher point. Either way, it is something you won't want to miss. We have seen lunar eclipses in Hawaii, but tonight's moon will be something extra special.
What Time?
Timing is indeed a bit off for Hawaii. Surprisingly enough, if you want to see the moon at its largest, then you will need to be at your spot at 5:34 p.m., however, the moon will be spectacular over the next little while after that, as the moonrise tonight should be like none you have ever seen. Good Luck!