Hawai'i Island is frequently visited for many of it's natural splendor. For example, when one mentions a trip to the Big Island, Kilauea Volcano immediately comes to mind. All the sight seeing the island has to offer can really incite quite a hefty appetite. And one day on my travels across the vast estate of Hawai'i Island, I stumbled across a savory little strip mall restaurant named Aka Sushi Bar that is, in my venerable opinion, the best sushi bar on the Big Island.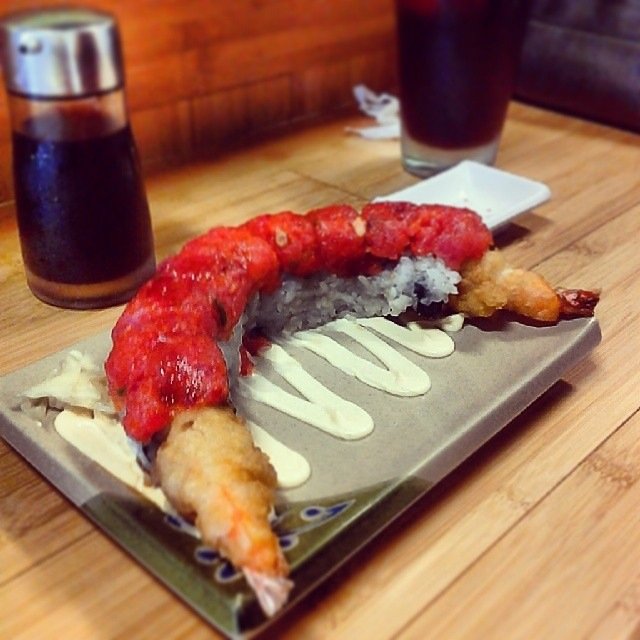 My friend and I had been planning a trip to the sunlit shores of Kona for a month. As the day drew near, she remarked about a place that she enjoys dining in. A sushi restaurant. Me, being an avid sushi lover, wasn't sure if I could invest any credibility to her claim because I've been to Japan and am originally from O'ahu, where there are numerous eateries unlike those I've encountered on the Big Island. I've eaten at several restaurants in Hilo that served sushi and none really tickled my fancy. Being a true friend, I indulged in her excitement, all the while pacifying my own skepticism. Unbeknownst to me, I was about to be converted from my state of incredulity.
We set our course due North on the morning of the day we had selected. The travel itinerary would take us up the mystic stretch of the Hamakua coast until we would arrive in Waimea. The drive from Hilo town would encompass at least an hour of mostly lush agricultural lands, quaint plantation towns, historical points of interest, ghostly mists, and sweeping ocean views. You can tell that you are near your destination when the air permeates a cozy chill and you emerge from a grey blanket of fog. Ahead lies the town of Waimea, or Kamuela as it is also known.
My friend began to voice her excitement by singing "we gon get suushi, we gon get suuushi." At this point we were both hungry (and my friend, delirious) after an hour of road time, and we sorely needed to just stretch our legs and relax with some ono food. She pulled into an unassuming strip mall. After all the talk about how grand this place was, I have to admit I was not impressed so far. I imagined a nicer setting for such a touted establishment. I saw a McDonald's in the same area and almost made a break for the familiar arches just to avoid any disappointments by following my friend into her treasured dive. But again, being the great friend I am, I reluctantly entered the restaurant known as….Aka Sushi Bar.
I surveyed the area as we walked through the door and noticed that it wasn't a large space, perhaps a 30-40 pax capacity, however, the floors, tables and work stations were meticulously clean. My friend and I made our way to sit at the bar to watch the sushi chef in action. I specifically admired the bamboo paneled counter top and fresh variety of Maguro, Sake, Hamachi, Unagi and Ebi in the glass display case before us. We viewed our menus and swiftly ordered at our stomachs urging.
The Chef, whom we later learned owned the restaurant along with his wife, worked with a surgeon's precision, and no sooner had our order gone in, it was sitting in front of us ready for consumption. I first ordered the lunch special. Shrimp and Veggie Tempura with a Tempura Maki roll. My first bite was like I had just consummated with a woman I loved dearly. And within a matter of 10 minutes, I was reaching for the menu again and ordered an Aka roll…a Shrimp Tempura roll topped with spicy tuna and avocado. 8 pieces of pure freshness invaded my palate. The fish was so fresh it tasted as if it came straight from the auction that exact hour. I was so thoroughly obsessed, that I picked up the menu and just pointed at a random item. Without even seeing what I had ordered, I gobbled that up too like it was my first meal in as many days.
All good things must come to an end as they say. Our bill was very reasonable considering the binge I launched on in just the 40 minutes we were there. Chef Mo and his wife, originally from Japan, are very assistive, personable, and genuinely kind people. The environment and especially the food are beyond what I expected. I walked out brimming with content as my friend exclaimed "See, see I told you yah, bess sushi place on da island ah!"
If you plan a trip to Waimea one fine day, and searching for a delectable place to dine, stop in at Waimea Center and visit Chef Mo and his wife at Aka Sushi Bar. You won't be disappointed!