Cinco de Mayo is upon us once again. There are a number of great Cinco de Mayo events happening in Hawaii in 2015 so wherever and whenever you choose to celebrate you should have a great option. Perhaps the best part if this year's Cinco de Mayo is that it falls on a Tuesday… which is a huge night for a lot of these venues already. Taco Tuesday anyone?
The celebrations this year should be huge. Remember to be safe out there while you have a great time.
Cinco de Mayo Cantina Crawl in Chinatown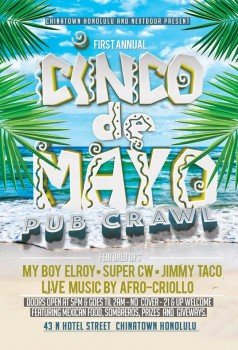 Celebrate Cinco de Mayo 2015 in Chinatown, Honolulu, where in the spirit of all things Mexicano, la gran fiesta will include latin entertainment, grande sombreros, mucho finger mustaches, colorful papel picado, muy deliciosos tacos, sugar skull face painting and of course, la cerveza y tequila! It should be great, as these guys are the same people who brought you the Zombie Crawl.
When: Tuesday, May 5 from 5 p.m.-2 a.m.
Participating Venue Include:
Eleven44, Proof, Bethel Street Tap Room, The Fix, The ARTS at Mark's Garage, Soul de Cuba Cafe, Smith's Union Bar, The Manifest, Downbeat Lounge, NextDoor, The Dragon Upstairs, Hank's Cafe, O'Toole's Irish Pub, Murphy's Bar & Grill.
Venue Entertainment Includes:
Afro-Criollo (latin dance & folk) @ Next Door 7pm-8:30pm
2doBem (Brazilian Carnival) @ Eleven44 9pm
Live Performers @ Soul de Cuba 6-7pm
DJs
Nando (el Control 808) @ Manifest 6-9pm
Da Lion of Judah @ The Fix 9:30pm
Jimmy Taco @ Next Door 9pm
Giuliana @ Eleven44
Games and Contests
"Lucky Loteria" bar-hopping bingo: Pick up your Loteria card at Eleven44 and get a free finger mustache for participating. Stamp your card at all bars and turn in to Next Door to win a sombrero!
"Loco Mustache" Instagram contest: Take a pic of your crazy mustache (real or painted) and post to Instagram with #LocoMustacheHawaii to enter.
"Sexy Sombrero": Who's sexiest in their Grande Sombrero? Find out at The FIX at 10pm.
"Hot Head" chili pepper eating contest @ Downbeat Lounge 9:30pm.
Face Painting: Sugar Skulls & Mustaches @ Manifest 5-8pm.
For more information visit http://www.damaniac808.com
Cinco de Drinko at Just Tacos
Each year Just Tacos celebrates Cinco de Mayo with Sabado Con Sabor, crazy drink specials and DJs playing the hottest Latin dance music. It is one of the best Cinco de Mayo celebrations in all of Hawaii.
When: Tuesday, May 5 from 9 p.m.-2 a.m.
Where: Just Tacos Mililani, Mililani Town Center, 95-1249 Meheula Pkwy #193
Other Info: 21+, ladies free until 10:30, then $5 cover until 11 p.m., $10 after 11
Cinco de Mayo Salsa Dance Party at Tiki's
Head to Tiki's for dinner and stay for live Latin music and Cinco de Mayo drink specials at the bar. Low key yet amazing.
When: Tuesday, May 5, 6 p.m.-1 a.m.
Where: Tiki's Grill and Bar, 2570 Kalakaua Ave.
Other Info: Free, 21+ to drink
Cinco de Mayo at Buho
If you haven't had a chance to check out Buho, Waikiki's classy new rooftop cantina, then Cinco de Mayo is the perfect time. Celebrate with their delicious Latin food and free salsa dance lessons all day, with live Latin music by The Son Caribe Band starting at 6 p.m. This place has a little something for everyone
and it will be a fantastic place to kick back and celebrate Cinco in Mayo.
When: Tuesday, May 5, 11 a.m.-2 a.m.
Where: Buho Cocina y Cantina, 2250 Kalakaua Ave
Other Info: Rooftop
Cinco de Mayo at Wahoo's
Probably one of the more laid back Cinco de Mayo experiences will happen at Wahoo's Fish Taco. They will only operate regular business hours, but the specials will be worth it. Get $3 tacos and $3 drink specials all day at Wahoo's, with live music by Shar Carillo from 6-9 p.m.
When: Tuesday, May 5 during regular business hours
Where: Wahoo's Fish Taco, 940 Auahi St.
Cinco de Mayo at Hula's
Cinco de Mayo just so happens to fall on Hula's Tequila Tuesdays in 2015 so the odds of this celebration being one to remember is good.. Get drink specials and happy hour prices all day and be sure to try their "bacos."
When: Tuesday, May 5 during regular business hours
Where: Hula's Bar and Lei Stand, 134 Kapahulu Ave, 2nd Floor
Enjoy your Cinco de Mayo celebrations Hawaii!