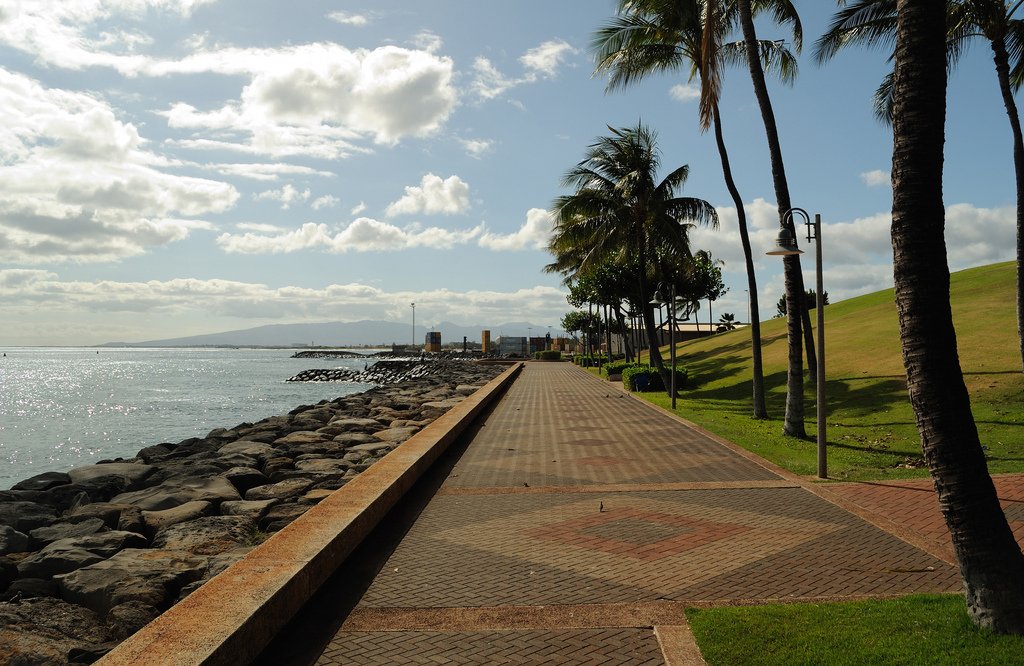 Many people head to Waikiki and Ala Moana beaches when they visit Oahu, but not too far away is a spacious park with lush green grass carpeting the rolling hills, away from the crowds. It is ideal for family reunions, parties, weddings or simply a picnic. You can view the sunset whilst strolling along the breathtaking ocean views at Kakaako Waterfront Park.
Hawaii's former Governor John Wahe'e was responsible for upgrading the 35 acre park. Local children like to take a large piece of cardboard and slide down the hills. Adults gather, talk story and enjoy potluck dinners. Across the street is the John Burns School of Medicine where you can buy takeout at Kulia Grille.
It is also a favorite surfer spot (Point Panic) when the South swells are in. Food trucks hangout on Tuesdays in the area, where there are plenty of shaded tables to eat on. You can relax, take a walk, a jog, bike or roller blade along a well maintained paved path. There is plenty of free parking right next to the Kakaako Waterfront Park. Furthermore, the park is part of the new development from Kamehameha Schools called "Our Kakaako."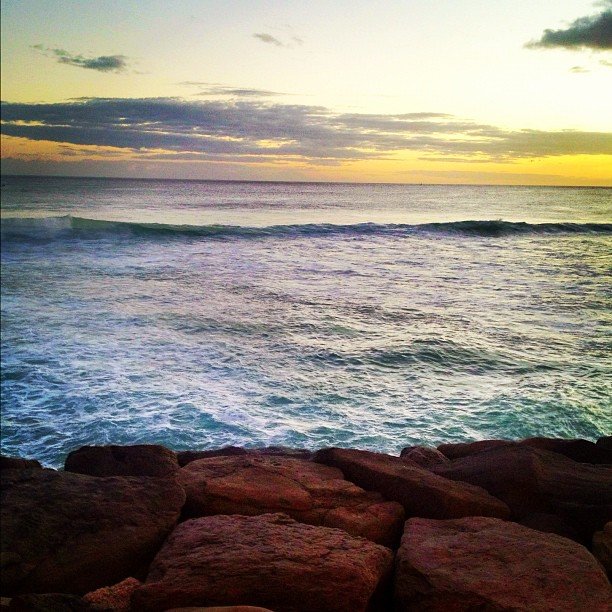 The park is a preferred scenic place for newlyweds to have their wedding photos taken. Also, you will find the peaceful place is a favorite for flying kites and spacious enough for remote controlled planes. There is a spectacular view on the Diamond Head side of the park at the end of the path. It is a perfect place to create memories for the future.
There are a couple of open air pavilions with sculptures. Barbecue and shower areas make the Kakaako Waterfront Park perfect for outdoor events. Additional things you may see at the park are Parkour, yoga, zumba, and there is a small amphitheater on the grounds. The ocean is deep blue where you can often catch site of parasailers and sea vessels.
The Ehime Maru Memorial is located in the middle of the park on top of a hill. This is where a Japanese fisheries training vessel was accidentally sunk by the USS Greeneville submarine off the coast of O'ahu in 2001. The memorial is dedicated to those who tragically lost their lives in this incident.
Nearby shopping is at Victoria Ward Center. Best of all, entrance to the park is free. A staircase leads you down to a small swimming area. There are restrooms, water fountains, monitoring security and pay phones. It is advised that you leave before dark, as they lock the gates at 10:00 p.m. The Kakaako Waterfront Park is located between Ward and Chinatown with the major roads being Ala Moana Boulevard and Kapi'olani Boulevard. It is at the end of Cooke Street.