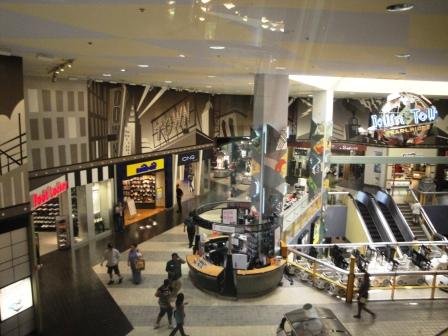 Now, calling Pearlridge Shopping Center an "alternative" may seem like a stretch. However, when the 800-lb gorilla in the room (aka Ala Moana Shopping Center) seems to command a majority of the Oahu shopping public's attention, it's always nice to bring up something different.Nestled in the heart of Oahu, Pearlridge Shopping Center (www.pearlridgeonline.com) is conveniently located in the neighborhood of Aiea.
Growing up, Pearlridge's claim to fame in my mind was the monorail system — which to this day still holds the distinction as the only monorail system in the State of Hawaii. As a kid, the monorail alone was enough to get me excited to visit the mall. Now, with a family of my own, I still consider Pearlridge to be my mall of choice here on Oahu. With over 170 stores split up between multiple locations, 2 food courts, 16 theater screens, and ample office space, Pearlridge truly has something for everyone.
Another point of fact: Pearlridge is also the largest enclosed shopping center in Hawaii — a cool thing to remember on a warm day here on Oahu.Perhaps the greatest thing about Pearlridge is its ability to provide a great central space for shopping and entertainment — without having to fight traffic or the high-volume crowds that are often the earmark of Ala Moana. The crowd seems more relaxed and the environment more family-friendly. Now, don't get me wrong…..I love to hit up town and visit the hustle and bustle of the other shopping alternatives. It's just nice to have an alternative.