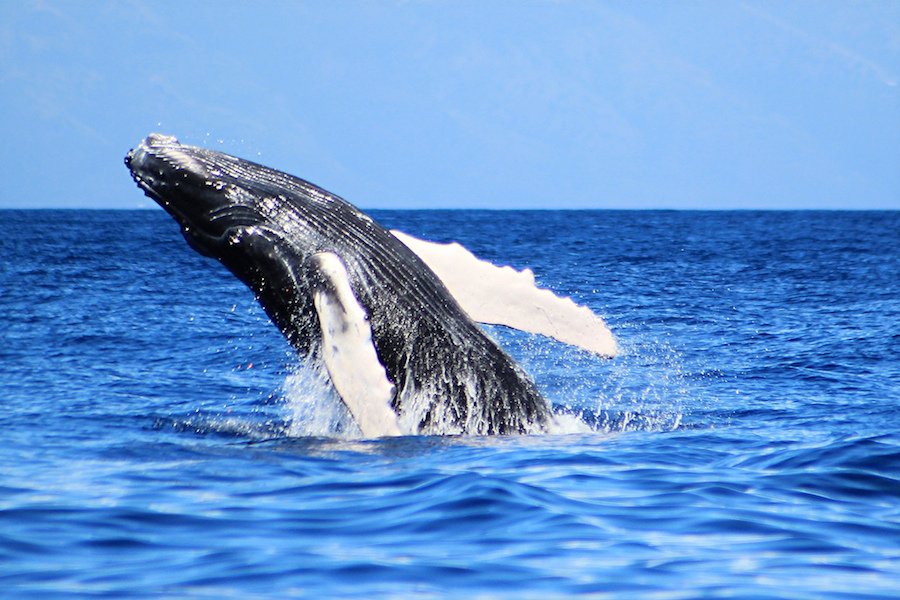 There are many different whale watching tours available on Maui. We had heard great things about one tour boat. We boarded the Alii Nui with several other adventurers on a gorgeous March morning at the height of the whale season in Hawaii.
First off, the crew asked us to take our shoes off, which sounded great to us. Before leaving the harbor, we were instructed in the safety measures. We were also briefed about the amenities to be found on the sailing vessel.
The captain and crew of the Alii Nui were very accommodating as well as entertaining. They fed us most of the trip. Snacks included fresh fruits, crackers, cheeses and all sorts of drinks. We got the royal treatment.
We were invited to sit or stand out on the deck so we could see the whales and enjoy the view. Our first-class whale watch on the shimmering blue Pacific was very relaxing.
They kept us educated about whales as we cruised along.
Rules indicated that we could not travel within 100 feet of a whale, so when one was spotted, they would cut the engine. It was thrilling to catch sight of the first mist coming from the blow hole of a whale. Water on the blow hole is vaporized and can shoot up to 25 feet in the air.
The main reason humpback whales travel to Maui's warm waters is to give birth and also to mate. There may be a group of males pursuing a single female in what is called a "pod." Some of the males can be very aggressive, even smashing into one another or pounding each other with their tails in competition.
I found it very interesting that whales can put half of their brains to sleep so they can be conscious of possible dangers. Wish I could do that!
Our crew shared many facts about whale behavior as we watched. Males often chase females for obvious reasons. Whales can stay under the water for up to 45 minutes and then come up for air for five minutes or less. Knowing this, we felt lucky to see the dorsal fins of several whales. I was able to catch a few shots of whales from a distance. Some people on the vessel had cameras with huge lens, which was definitely an advantage for them. Next time…..
During the winter months the whales make their long trip back to Alaska. While they are in Hawaiian waters, they do not feed, but wait until they get back to colder waters. Hawaii's blue water is relatively clear because there is a scarcity of phytoplankton, which feeds the krill and herring that the whales feed on.
Whales can eat two to nine thousand pounds of food per day and store this as fat while they mate, give birth and nurse. The calves (babies) can down over 100 pounds of mom's milk each day.
We were out chasing whales for about two hours. When we hadn't seen one in a while, we would take off in another direction.
Whales have large eyes that work above and below the water so they can see us coming. With their large tails, they can swim away rapidly. It was a great day of chasing whales and I would definitely do it again, if given the chance. Check out the Alii Nui Website for more information.