There are very few places around the world (save Taiwan) that have an obsession with Bubble Tea the way Hawaii does. Obviously the Asian demographic is a huge factor, but honestly some of the Bubble Tea places in Hawaii really take their time and do it right. So where should you go to get the best Bubble Tea in Hawaii?
If you have never had Bubble Tea you are missing out. Instead of trying to describe it my way (delicious, breathtaking, unique, tasty), I am going to just give the proper description of what Bubble Tea is.
Bubble Tea: also known as pearl milk tea or yung-marc, is a Taiwanese tea-based drink invented in Taichung in the 1980s.[1] Most bubble tea recipes contain a tea base mixed/shaken with fruit or milk, to which chewy tapioca balls and/or fruit jellies are often added. The "bubble" refers to the foam created by shaking the tea, which itself is called "pao4mo4" (泡沫) tea, meaning "frothy/foamy" tea. It is common to add large, chewy tapioca balls to the drink, which are nicknamed bōbà (波霸), which is slang for "large breasts", and sounds much like "bubble"—thus the term "boba tea" and "bubble tea" have become somewhat synonymous in America, however in Taiwan there is a big distinction. These balls are also variantly called (粉圓, fěnyuán), or "pearls" (珍珠, zhēnzhū), especially when the balls are smaller ("boba" refers to the larger size). Ice-blended versions are usually mixed with fruit or syrup, resulting in a slushy consistency.

Source: Wikipedia
There are a ton of ways you can have Bubble Tea, with the most popular being made with tapioca and green tea. You can customize Bubble Tea to your heart's desire. Think of it as a shave ice, with a ton of customizations and add-ons at your disposal.
Bubble Tea isn't going away anytime soon, so you have ample opportunity to try some. It is currently up there with other Hawaii obsessions (aforementioned shave ice) that will probably be around forever.
The great thing about Hawaii is that there are many different places to go get some Bubble Tea. Each place offers its own personal and unique taste and offerings of this much-loved drink. Here are some of the top places you may want to visit in Hawaii for a great Bubble Tea experience. In no particular order.
Dragon Tea
We proudly use fresh fruits, natural premium tea, and the finest ingredients to bring you the Natural, Healthy, and Tasty Taiwanese Bubble Tea! Check out Dragon Tea on Facebook.
423 Nahua St
Honolulu, Hawaii 96815
(808) 921-9988
Bambu Desserts and Drinks
This San Jose founded brand serves about 100 different Asian-inspired desserts and drinks. From chè desserts, milk teas, smoothies, blended coffee, hot and cold drinks… there is something for everyone. Visit the Bambu website now.
745 Keeaumoku Street #102
Honolulu, HI 96814
(808) 949-0288
Bubble Puff and Tea
Bubble Puff & Tea serving delicious desserts, unique snacks and specialty drinks. Visit the Bubble Puff and Tea website now.
3301 Campbell Ave.
Honolulu, HI 96815
(808) 732-2201
Thang's French Coffee and Bubble Tea
Thắng's French Coffee & Bubble Tea specializes in fresh fruit smoothies, bubble tea, and Vietnamese iced coffee. Check them out on Facebook now.
1286 Kalani St
Honolulu, HI 96817
(808) 845-2164
Shaka Shaka Tea Express
1199 Dillingham Blvd
Honolulu, HI 96817
(808) 377-1583
Kung Fu Tea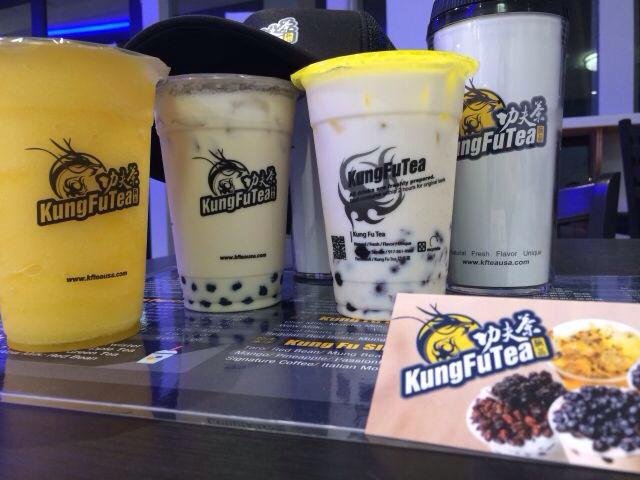 "It is our dream to introduce the Kung Fu Tea brand to consumers all around the world, as well as creating a more refined bubble tea culture." According to the people behind Kung Fu Tea. Check out the Kung Fu Tea website now.
510 Piikoi St
Honolulu, HI 96814
(808) 589-0088
Asian Mix Tea Time
Taiwanese style drinks such as freshly brewed tea, bubble drinks, milk tea, smoothies, iced milk drinks, and yogurt drinks. Check out Asian Mix Tea Time on Facebook.
1234 South Beretania St
Honolulu, HI 96814
(808) 521-1688
There are just so many great spots for Bubble Tea in Hawaii that you should have no problem finding one. Happy hunting. Let us know what you think when you try it. If you know of a great Bubble Tea place in Hawaii that isn't on this list mention it in the comments and we will add it.