The practice of meditation helps us breathe life into the body, mind, and soul. There is no better place to experience this revitalizing practice than in the grips of nature. Hawaii is home to some of the United State's most beautiful natural wonders.
Punaluu Black Sand Beach
Courtesy of Explore the Big Island
Be thankful for Hawaii's active volcanoes. These volcanoes are the very source of the black sand that is strewn across the southern Kau coast. As you sit upon these sands, your back will be turned to a backdrop of palm trees. As you look forward, you can peer out into the Punaluu Black Sand Beach's deep blue water.
Akaka Falls State Park
Courtesy of Hawaii State Parks
Take a hike through the dense rainforest at Akaka Falls State Park before you arrive at Akaka Falls, a 442 ft. tall waterfall. The forest is blooming with wild orchids and palm trees. After you find a secluded place near the falls, the cascading water will drown out everything else, internal and external distractions included.
Makalawena Beach, Big Island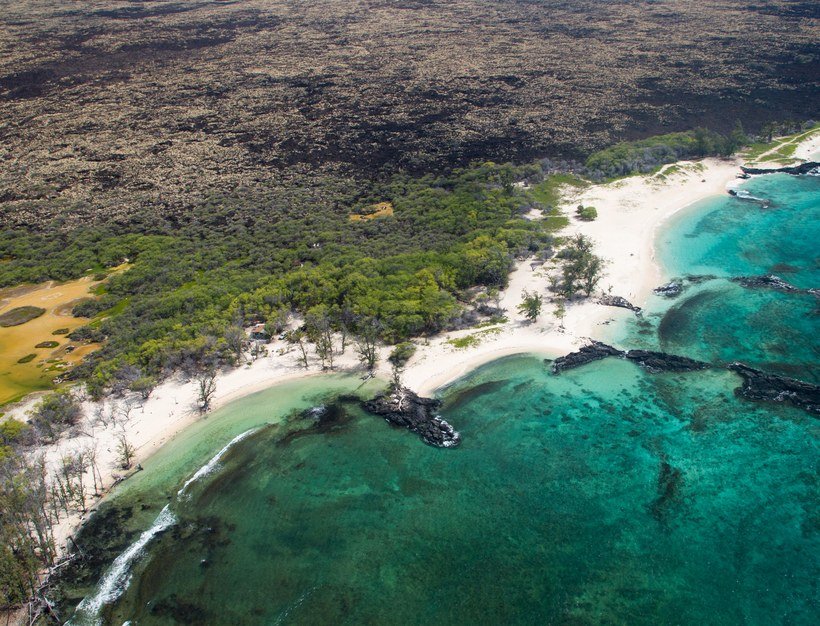 Image Courtesy of Conde Nast Traveler
Located on the Big Island's northern coast, Makalawena Beach, sometimes referred to by the nickname "Maks," will take your breath away as soon as you set sight on its emerald waters. What makes it perfect for meditating is that it's rarely occupied. The beach's white sand and forest backdrop create the perfect scene for you to concentrate on your breath.
Hamakua Coast
Courtesy of Wikipedia
Take a stroll along the Hamakua Coast of the Big Island, and you'll find endless places to meditate. The coast is known for receiving large amounts of annual rainfall which support its lush green valleys and tropical rainforests. It's an excellent option for the adventurous meditator who prefers to discover the perfect relaxation location for their self. And, on Hamakua Coast, the possibilities are endless!
Volcanic Sculptures in Puna
Courtesy of The Hawaiian Islands
Located on the eastern end of the Big Island, Puna is known for its positive energy and laid back atmosphere. The area is home to unique "lava tree" formations, as well as black sand beaches. After you meditate among the volcanic formations, take a hike down to the tide pools or naturally heated geothermal pools.
From waterfalls to white or black sand beaches, Hawaii has countless opportune places to take a load off and rebalance. The lush rainforests, rich with plant and animal diversity set the perfect scene for meditating. Wherever you choose to meditate, you won't be disappointed! Hawaii's unique and diverse terrain makes it a special place to reconnect with your soul.
If you're looking for more things to do on your Hawaiian adventure, make sure to check out some of our other articles discussing activities on all of the islands of Hawaii!