Hawaii is a great spot for photographers looking to capture the raw beauty of nature. There is a certain magic in this land waiting to capture the mind and the eye of any seeking to delve into its Majesty. If you want to create stunning works of photographic art, grab a good backpack for your camera and your sense of adventure and head out to these fascinating destinations.
Hawaii Volcanoes National Park
Truly a sight like no other, Hawaii Volcanoes National Park is like entering into another world. Bubbling lava and volcanic formations create a unique landscape while clouds of smoke and steam sit in contrast against the blue sky backdrop of the big island.
Haleakalā National Park
If you were looking for one spot that has everything, Haleakalā National Park just might be it. This park showcases everything that is great about the Hawaiian Islands. Overlook spots provide a gorgeous view of the islands and mountain ranges. Rugged natural trails create photo opportunities capturing the unique landscape of the area. Lava trails, cinder cones, waterfalls and shimmering pools of water all present themselves for the artistic photographic eye. If wildlife photography is more your style, the park also features local species in their natural habitat including endangered Hawaiian Geese.
Nāpali Coast State Wilderness Park
Nāpali Coast State Wilderness Park is a look into the sheer beauty of the wild. A steep footpath takes you through the impressive park where you can capture views of native wildlife, beautiful natural waterfalls and streams, and all the majestic scenery of Hawaii. This park is known for its steep cliffs and cascading waterfalls, creating some absolutely stunning imagery. If you plan to make this hike, make sure you bring plenty of water and food with you.
Haleakalā (the East Maui Volcano)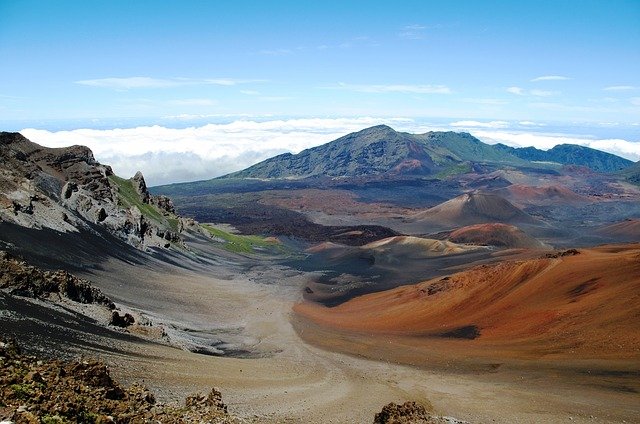 Haleakalā volcano is a massive outstretching of mountainous volcanic rock with peaks and valleys perfect for capturing the sunrise and sunset. 75% of Maui is formed from this massive volcano–the biggest in the area. Whether you go to the crater itself or just the visitor's center, this is a great place to see and photograph the sunrise.
Waimea Canyon
Known as Hawaii's Grand Canyon, Waimea Canyon is 10 miles long and 3000 miles deep in parts. This is a must for any travel photographer. One of the greatest natural structures of stone and earth in the world, the Waimea Canyon is simply breathtaking. There are a variety of trails to explore, and the red rock makes for some gorgeous photos, regardless of the time of day.
So, if you are planning a trip to the Hawaiian Islands, be sure to check out these sights. Make sure you take a good camera, clothes and other items to handle whatever weather the island throws at you and a sense of wonder and adventure. You will not regret it, and everyone will love your pictures!
References:
http://beyondhonolulu.com/8-amazing-places-to-visit-in-hawaii/
https://loadedlandscapes.com/hi-photo-locations/
https://www.wandrd.com/products/prvke
https://hawaiistateparks.org/parks/kauai/napali-coast-state-wilderness-park/
https://www.hawaii-guide.com/kauai/hiking_trails/kokee_and_waimea_state_park_hiking_trails